What is the most important thing to you about your shipments? Usually, it is the estimated time of arrival, because you have to plan for the future based on when the shipment will arrive.
We all hate when we should postpone our business steps and workflow only because the cargo is supposed to have a delay.
Visiwise never leaves a concern to be unsolved! It made us add ETA Change Notification to the dashboard so that you never miss a chance and alternation in the ETA of your shipments.
It is the way we try to discover new solutions for your needs while managing and tracking shipments. We listen to you, analyze new opportunities, and make them happen.
This time, you didn't tell us but we found out about a recent delay in the majority of shipments. Covid-19, vaccination limitations, and shortage of crew have led to comprehensive chaos and extreme delays. These delays leave a lot of ETA changes for those who are tracking the shipments.
Visiwise never ends, this is a sentence we repeat every day when we develop the features of Visiwise Dashboard. As there is no ending point for our services and developments, we thought that the Emails you get after ETA changes are not enough for effective planning.
ETA History Tracking is the new feature we are offering to help you choose the best shipping lines with fewer ETA changes and plan more accurately based on the history of ETA changes.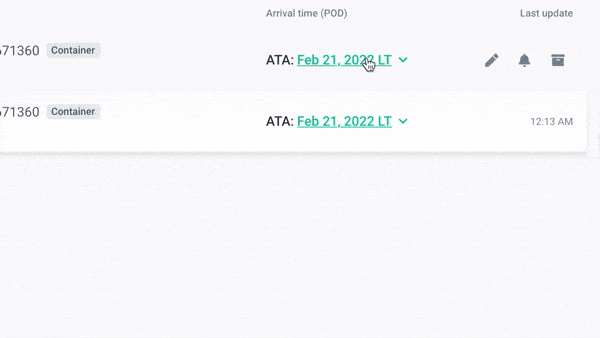 How Can ETA History Help Planning?
After we launched ETA change notifications, you could see the most recent change in the estimated time of arrival. From now on, you can see the whole ETA History to have a sense of possible changes in the future.
Also, when you know about every delay, you know how your shipping line is performing and offering services. You might like to save more for the next shipment and use the shipping line with the fewest ETA changes; they look more professional and can help you have your cargo in the shortest time possible.
With Visiwise, visibility and transparency are at their best level. The next time you want to choose a shipping line to transport your goods, you know which one is punctual and which one is always with a lot of delays.